Our Vision
To promote the best Finnish educational practices in the developing world.
Our Mission
To equip all students with the skills required to become entrepreneurial citizens, responsible leaders and environmental champions.
VentureVillage is the brainchild of two non-resident Keralites, Anup Jinadevan and Unnikrishnan S Kurup (Unni), who have been living and working in Finland for more than a decade. A Doctor and an Engineer respectively, both are active members of the expat community in Finland. 
The "Varnam" project, a painting competition held for children of immigrants, is an example of programs that they have initiated to support the immigrant community in Finland. 

It was the 2018 floods in Kerala that made Anup and Unni think of ways to work in their home state of Kerala. As office bearers of the Finland Malayalee Association they were part of the team which organised fundraisers to help the state recover from its worst ever disaster. Their active involvement in the post disaster reconstruction efforts helped them reconnect with old friends and made them think of ways in which there could be a more sustained, long term engagement. 
Education seemed the ideal pathway given that the Finnish education system is considered the best in the world. Parents of 2 children each, Anup and Unni had seen first-hand the remarkable differences between the education system in Finland with that of their own schooling. After discussions with friends, both in Finland and in India, they considered options which would allow them to mould the next generation of responsible leaders. While initial ideas revolved around taking existing solutions directly from Finland to India, the high costs involved as well as the need to adapt solutions for Indian scenarios made them consider developing a product from scratch. This paved the way for the conceptualisation of VentureVillage.
Given Kerala's recent history of high unemployment rates amongst educated youth, programs that promote entrepreneurship and job creation were explored. It was in this context that FutureCity was conceptualised. While it is modelled on a program that has been running successfully in Finland, it is fully customised for India. 
In the initial rounds of discussion with schools on the feasibility of the FutureCity program, schools mentioned the need for programs that address waste management and sustainability. Anup and Unni took this back to experts in Finland to get their inputs on creating programs that can teach these concepts. 
To provide expertise on this topic, VentureVillage decided to officially bring Mr. Matti Pettay on board. Mr. Pettay, who has decades of experience in helping cities redesign their waste management infrastructure, agreed to support VentureVillage in creating a curriculum to teach these concepts. Please check out these links to see how Mr. Pettay redesigned the waste management efforts of the Vadodara corporation.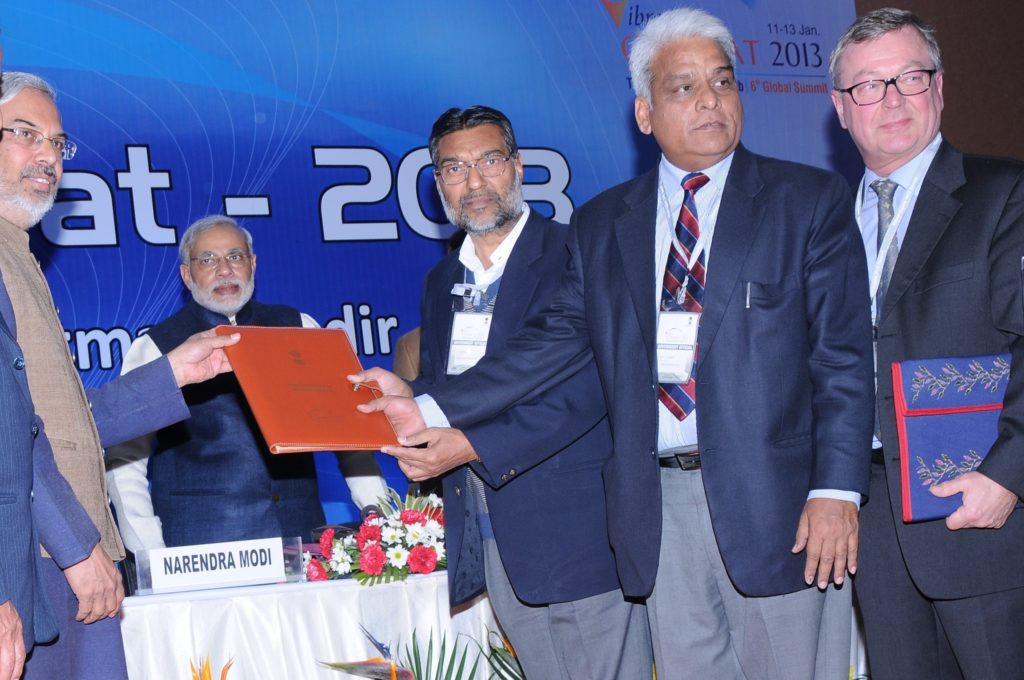 Mr Matti Pettay (first from the right) signing an MoU for redesigning the waste management protocol in Vadodara with the then Gujarat Chief Minister Shri Narendra Modi.
It was also at the same time that VentureVillage decided to bring Jacob Roshan on board to head Kochi operations. Jacob, who holds a Masters in Economics from IIT Madras, has experience both as a teacher and as an education researcher. As a Teach For India fellow, Jacob taught 25 students in a corporation school in Chennai. Later, he joined The Education Alliance, a New Delhi based non-profit, where he handled their Research and M&E efforts. As Head of Operations in Kochi, Jacob plays a pivotal role in customising the VentureVillage curriculum for the Indian school setting.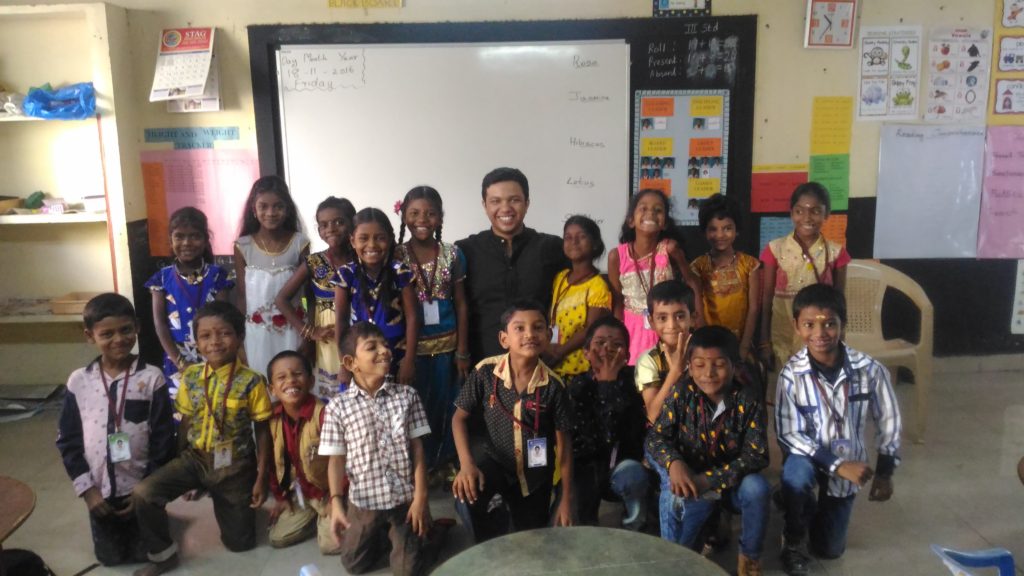 Jacob Roshan with the students he taught in a Corporation school in Chennai, India