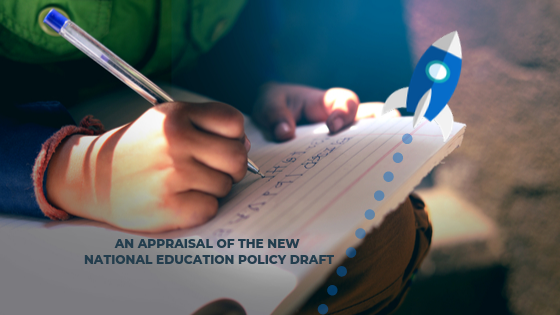 On 31st May 2019, Ministry of Human Resources Development (MHRD) released a draft of National Education Policy (NEP). The policy, first framed in 1986, is undergoing its first revamp in more than 25 years. It aims at equipping Indian students with the necessary skills and knowledge to eliminate the shortage of skilled manpower in Science, Technology, Academia etc. It stresses on a quality education for the changing demographics of the country and does this by looking into various factors that affect the educational landscape in the country.
Firstly, the draft NEP addresses the lacunae within Early Childhood Care and Education (ECCE). ECCE is an umbrella program that includes health, nutrition, social environment and early education of children under 6 years of age. The first 6 years of a child are considered crucial as development in these years is rapid.[1] Research has pointed towards the necessity of facilitating a stimulating environment during these critical years, particularly by including more play-based activities that enhance motor skills.[2] However, the current curriculum, while stressing on holistic development, has been unable to meet school readiness requirements of children. Children have been unable to develop the appropriate skills to optimise learning by the time they start school. The new draft tries to answer this through restructuring the existing foundation of schooling. As opposed to the current 10+2 model, the policy proposes to include ECCE as part of a Foundational Course. This would ensure that students would not have to follow a linear, age-based educational trajectory. Moreover, they would receive enough time to learn school readiness skills like sitting upright, emotional regulation, social skills and independence.
The new policy takes into consideration that it is only at about the age of 8 that children adapt to scripted learning.[3] At present, a large proportion of children in pre-school and Grades 1 and 2 are not receiving developmentally appropriate education. To correct this, the policy advocates the merging of anganwadis and primary grades. This would enable children enough time and flexibility to build up their innate abilities and to acquire soft skills like cooperation, social interaction, and compassion. Moreover, the extra attention they will receive over the first 5 years of schooling could have a positive impact on the health of children. However, while the policy mentions merging anganwadis and the early grades together, there needs to more clarity on resource allocation to make this come to fruition. Foundational Literacy and Numeracy is another important aspect of the draft. The objective of this programme is to ensure that every student in Grade 5 and beyond is proficient in basic literacy and numeracy skills by 2025. The reason for the focus on the basics is rooted in research which tells us that students who do not master the basics tend to develop flat learning curves in higher grades. They struggle with higher level content, which is hypothesised as one of the main reasons for high dropout rates. In order to tackle this problem, the policy proposes an additional hour for reading and mathematics in Grades 1- 3 and an additional hour for writing in Grade 4. It also proposes the introduction of language and maths weeks to encourage students to present their learnings. Such a measure could lessen the gap between their academic world and the real world.
Extensive changes have been suggested in curriculum and pedagogy, with increased focus on holistic development of students. A crucial step towards achieving this is the reduction of curriculum content in each subject. Completion of content has been reported to be one of the biggest hinderances to adopting innovative teaching methods. With this step, it is hoped that schools can spend more time working on crucial 21st century skills such as critical thinking, creativity, scientific temper, communication, problem solving, and digital literacy.
The report also makes radical recommendations for the integration of co-curricular as well as vocational courses into the curriculum itself. If this is carried out, subjects like yoga, art, music, dance, and sports would become part of the curriculum. This is a remarkable step in the progression to a liberal education course that the policy tries to bring forth in the higher secondary phase of schooling. Similarly, by removing the separation between vocational and academic streams, all students will be exposed to different careers and would be kept abreast of the evolving world of employment.
Renewed importance given to mother tongue is another major aspect of this report. The new draft encourages the use of home languages as the medium of instruction till at least grade 5. A sense of belonging is created amongst students by using the languages that are comprehensible by them. The draft also encourages textbooks to be translated and reworked in respective mother tongues/home languages. Moreover, this translation of books into mother tongues, would essentially decrease the supremacy posed by certain languages over the other.
Restructuring of Board exams has been another important dimension explored within the draft. To reduce the stress on students, the policy puts forward a formative evaluation plan for the higher grades. According to the new draft, students should appear for a minimum of 24 subject exams but only over a span of three years. Moreover, the exam would be conducted twice a year, thereby helping reduce the anxiety of failure. This move would give students more time to choose their career path and would provide relief from the imposed specialisation that they have to decide upon as their approach their final years of schooling. Most importantly, a flexible learning environment and variable examination schedules would enable more students to approach learning as a process than as a result.
The NEP draft also proposes the need to build a strong accreditation system to monitor school functioning and management. Multiple agencies would be involved in this accreditation and accounting processes. Along with State School Authority set up in all states, Rajya Shiksha Aayog and Board of Assessment would be involved in the accreditation system. The policy also talks about the introduction of School Quality Assessment and Accreditation Framework (SQAAF), which would determine the standards that need to be followed for accreditation. Each school, once well equipped with the digital appliances, would be prompted to go through a regular self-evaluation forum. This autonomous exercise could liberate them from the increased paper work that they deal with during the days of external examination. The policy acknowledges the need for improved teacher training, and accepts that there is a dearth of well-trained teachers for imparting high quality education. The draft advocates for increasing the number of B.Ed. courses be increased in various universities to attract more people towards this profession. Introduction of multidisciplinary courses for more effective teacher training is also considered. However, this is seen as a long-term goal after a thorough review of the current courses.
Further, a need to improve the infrastructure of schools has been highlighted in the draft. It proposes that every school should have a minimum of 3 large rooms, adequate learning aids and a school library. This proposal to enhance the learning environment is expected to facilitate better instruction and student outcomes. Moreover, the need to have one teacher per classroom has also been mentioned. However, clarity on how these initiatives would be financially backed is lacking in the draft.
The draft New Education Policy is a massive attempt to redefine the direction of education policies in the country after a long time. The draft stresses on the need for our schools to be offering comprehensive development of pupils to understand the convoluted mechanisms of the changing world. The plethora of options in front of each pupil could be realised through this restructuring. Moreover, a path towards easy and stress-free learning could create a confident generation, realising their own potential. However, education is a unique investment in the present and in the future, as mentioned in the draft, and a larger proportion of GDP needs to be allotted for revamping the education system. The system, bolstered with well trained teachers, would guide the present generation to realise their full capabilities. The draft NEP, with a few improvements and an efficient implementation, could come as light to our darker days and alter the educational landscape of the nation.
References
Babbar, Karan. "Gaps in the Draft NEP's Suggestions for School Accreditation Need to Be Plugged." The Wire 12 September 2019. Web.
"Draft National Education Policy 2019." 2019.
"Draft NEP seeks to deprive powers of State." The Hindu 22 July 2019. Web.
"National Policy on Education 1986." 1998.
"New Education Policy: Principles, Priorities & Practices." Centre for Civil Society (2019). Web.
"What the National Education Policy (NEP) means for India." idronline 23 July 2019. Web.
---
[1] "National Focus Group on Early Childhood Education"; National Council of Educational Research and Training.
[2] "Draft National Education Policy 2019"; Ministry of Human Resource Development.
[3] Ibid